Harbour House annual exhibition showcases local artists works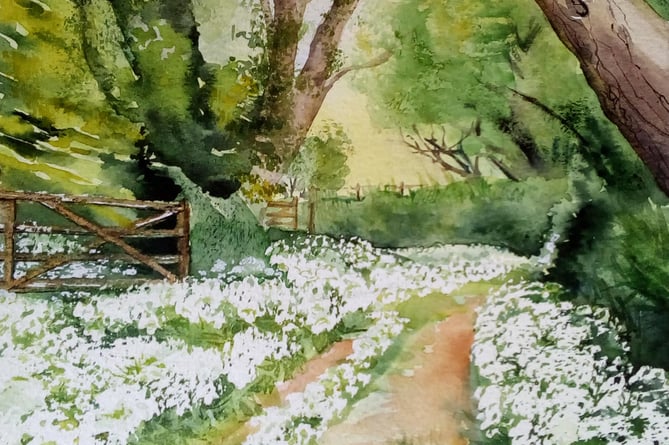 Christine Pascoe, Wild Garlic Path, watercolour, 20 x 28 cm.jpg
(Christine Pascoe )
Subscribe newsletter
Subscribe to our email and get updates right in your inbox.
Harbour House in Kingsbridge is due to open its annual summer exhibition 'Contemporary Passions'.
The exhibition will showcase a wide range of painting, printmaking, jewellery, ceramics, mosaics, pyrography, and works in leather and metal by nine members of the artists' collective, the South Hams Arts Forum (SHAF).
The show will open on Tuesday, July 5, with two gallery talks taking place during the two-week exhibition.
Taking place on Sunday, July 10, at 11 am, Mosaicist Kate Rattray and watercolour painter Christine Pascoe will talk about their work and the exhibition.
At 2 pm on Saturday, July 16, marble artist and leather worker Rachel O'Connell will talk about her heritage crafts and will give a demonstration of origami techniques.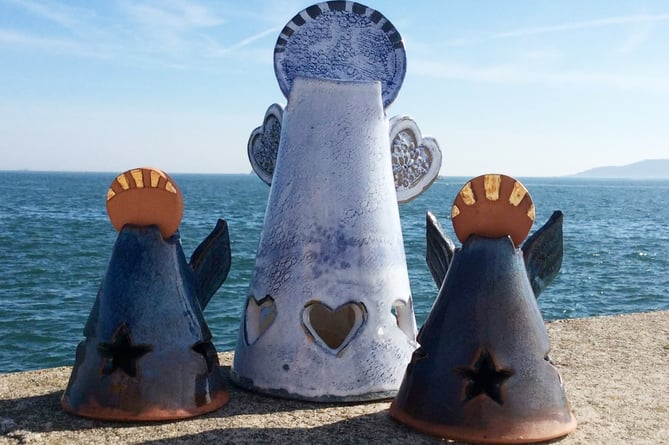 Heather Morfett, ceramics.jpg
(Heather Morfett )
A mosaicist since 1994, Kate Rattray will show wall sculptures, constructed with wire, cement mixes, plaster and polystyrene before the addition of a mosaic skin. Themes include birds and moths in flight.
In her contemporary and quirky jewellery, Patricia Hitchens upcycles older pieces by incorporating sea plastic and glass for a distinctive look.
Susan Luker's most recent ceramic works explore the potential of crawl and lichen glazes, clay slips and engobes, inspired by nature and painted directly onto her hand-built sculptural pots.
Heather Morfett embraces the unpredictability and the endless possibilities of working with clay.
Working as a therapist, she is interested in how art and artmaking can shine a light on hidden issues, and she takes creative inspiration from events in her life which have moved her as well as from her environment and her travels.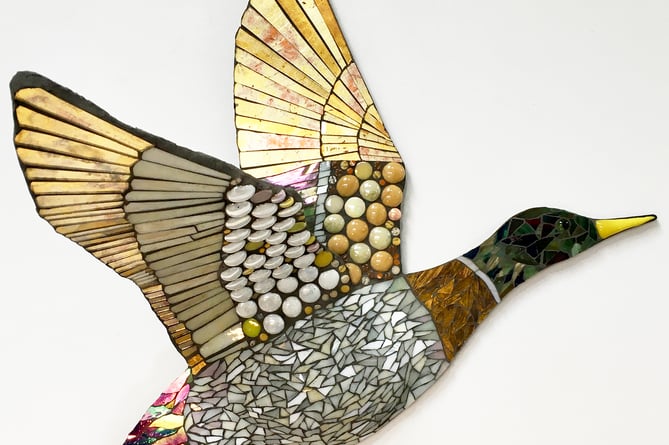 Kate Rattray, mosaic duck
(Kate Rattray )
Alison Hannah's creative practice combines poetry, paintings and ceramics, inspired by the landscape and shoreline of the southwest and capturing the interactions between people and landscape.
Social and conservation issues are considered in her practice.
Richard Bent FWCB (Fellow of the Worshipful Company of Blacksmiths) brings artistic and architectural content to his work as a blacksmith, a craft with "roots deeply embedded in history".
Rachel O'Connell, too, uses traditional tools and the slow, considered process of heritage crafts to produce her contemporary designs in marbled leather, cork and sustainable fabrics.
Lou Griffiths treats sustainable bamboo and locally sourced wood as her canvas for the "slightly unpredictable and unconventional technique" of pyrography, using burn marks to bring her nature-inspired designs and illustrations to life.
Watercolourist Christine Pascoe takes inspiration from her south Devon and Dartmoor surroundings, painting en plein air in a naturalistic style.
Her commissioned work has included animal portraits, houses and gardens, and from her self-taught beginnings, she has gone on to tutor others. Jane Davarian is inspired by "cultures rich in indigenous art", and the architectural and textile designs she has encountered on her travels may find their way into her printmaking, where bold monochrome allows for clarity of detail.
Nine SHAF members present this year's, Contemporary Passions exhibition, celebrating a wide range of art and craft approaches.
The show opens at Harbour House in Kingsbridge on Tuesday, July 5. Opening times will be 10 am – 5 pm daily, except for Sundays when the gallery will close at 3 pm.
The exhibition runs until Sunday, 17 July, and admission is free.
Comments
To leave a comment you need to create an account. |
All comments 0