Planning consent not valid row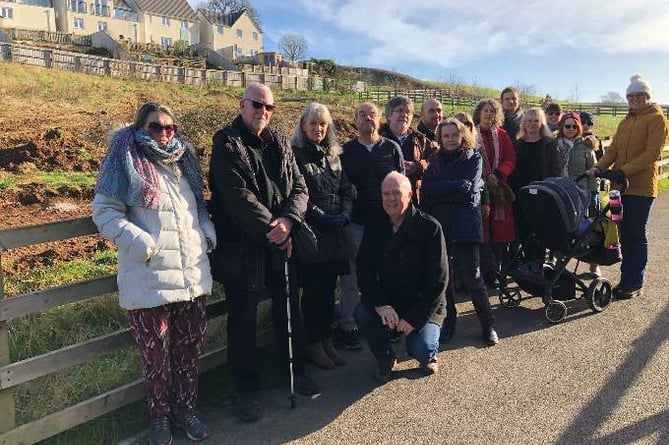 Totnes district Cllr John Birch with Camomile Lawn residents
Subscribe newsletter
Subscribe to our email and get updates right in your inbox.
Residents are challenging the validity of planning consent for a 68-bed care home on a new site overlooking the River Dart, which they claim has expired.
In May 2018, Gibraltar-based development company Luna Rock Ltd received the green light to build a care home overlooking Steamer Quay in Totnes,
One of the conditions stated that work must start on the development on or before 22 May 2021, otherwise the permission would expire.
The developer says work did start on 30 April 2021, and has subsequently applied to make "substantial" variations to the conditions of the original plans.
But residents of the nearby Camomile Lawn insist work has not started and that the permission is now null and void, and they are calling on South Hams Council to withdraw it.
They are backed by Totnes ward councillor, John Birch, who has challenged the validity of the application to vary with the council's solicitors.
Cllr Birch said: "The developer stated in its application form that the development commenced on 30 April 2021, and claims the construction of one manhole without drainage is sufficient.
"In my view this token gesture does not amount to the commencement of the development, and in consequence the current application should be rejected on the grounds the 2018 planning consent has expired.
"In spite of this the developer has recently submitted a planning application to vary the lapsed 2018 permission.
"This application seeks to make substantial changes to the scheme approved in 2018. Such changes in my view are unacceptable on planning grounds."
Cllr Birch rejects the new application hailing it a "substantial overdevelopment" of the 0.45Ha site.
The new application seeks a 26 per cent increase in floor space, and the new design will result in an "ugly and imposing" building that will "despoil" the river gateway to Totnes, says Cllr Birch.
"As I see it the developers had the benefit of a planning permission for a care home and should have got on with it.
"They have missed the boat and should not now seek to foist an oversized and ugly replacement development on the town."
Totnes Town Council has also objected to the variation stating: "Overmassing of the site in the revised extension plans, which seem too significant a change to be a variation to an application that has expired."
South Hams Council leader, Cllr Judy Pearce, said: "The council solicitor has received the concerns raised by Cllr Birch, on behalf of residents, and this is under active consideration.
"Once this has been completed, the developer and Cllr Birch will be told whether the council can continue to determine the planning application.
"In which case, all comments made concerning the application will be taken into account."
Comments
To leave a comment you need to create an account. |
All comments 0