Farmer's warning to dog owners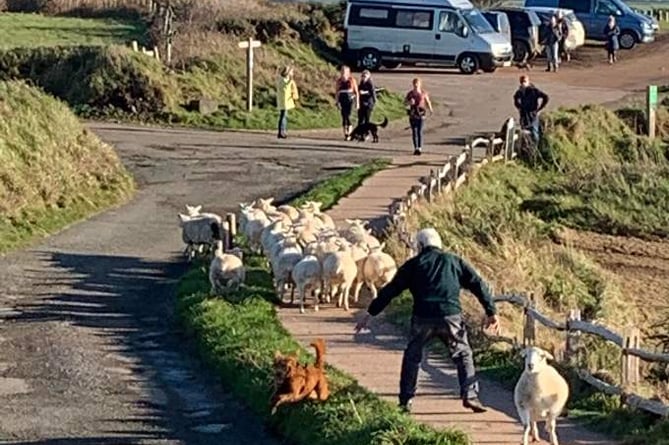 Subscribe newsletter
Subscribe to our email and get updates right in your inbox.
A South Hams farmer is warning people to keep their dogs under control after a number of recent incidents.
Rich Rossiter from Burton Farm at Galmpton is frustrated that people aren't following straightforward advice. He asked:
"How many more sheep and lambs need to be chased off cliffs, into roads, pushed into cattle grids and bitten before their owners realise its not about whether your "Rover" would do anything, it's the fact sheep don't understand if they're being played with or attacked?
On Thursday we had yet another dog attack on Bolberry Downs, and at the same time another one happening with our rams out on kale. Even on our wedding day, a guest has to pull over and stop an attack on his way to the church! Keep dogs on leads. It's not hard, and it's what a responsible dog owner would do. Every dog has it in them, its their instinct to chase, and the sheep's instinct is to run wherever they can."
The law says the owner of the livestock, the land or any authorised person may kill or injure a dog in order to protect the livestock. The dog must be worrying or about to worry the livestock. There must be no other reasonable means of ending or preventing the worrying; or
the dog has not left the area and is not under the control of any person and there is no reasonable means of determining ownership.
This does not count if livestock has trespassed onto someone else's land and a dog belonging to the land owner is worrying the livestock. If sheep have been attacked and require treatment, disposal or have lost lambs, then losses can be claimed back from the dog owner through a civil claim.
Dogs which do not need to be on a lead include those owned by, or in the charge of the occupier of the land, the owner of the sheep a police dog, a guide dog for the blind,
a trained sheep dog, a working gun dog or one of a pack of hounds. A working dog needs to be clearly working at the time to be exempt.
Comments
To leave a comment you need to create an account. |
All comments 0