Salcombe Players deliver a Christmas cracker
Tuesday 14th December 2021 7:00 am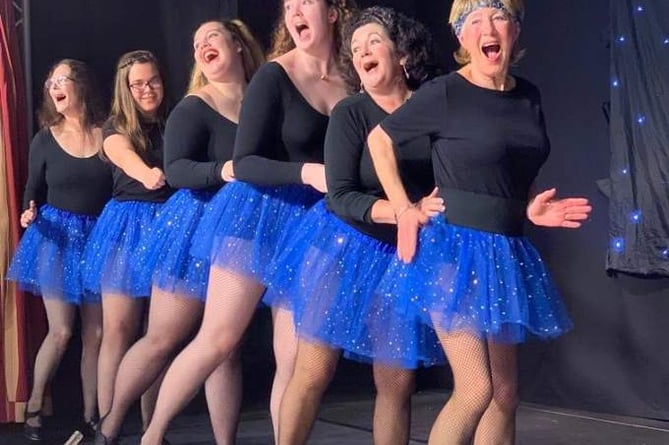 Subscribe newsletter
Subscribe to our email and get updates right in your inbox.
The Salcombe Players pulled their Christmas Cracker, Deja Review, for three nights. Taking place on Thursday December 2 , Friday December 3 and Friday December 4 - at Cliff House in Salcombe, The play attracted full, but socially distanced and suitably masked, houses.
An enthusiastic cast of 19 adults delighted their audiences with a score of sketches. Congratulations to them all for sharing their special brand of Christmas cheer: Pam Axtell, Tony Axtell, Pam Bennett, Peter Bennett, Felicity Bonner, Kirsty Bonner, Angeline Chesters, Iain Dundas, Jackie Hodges, Astrid Kemble, Dave Lye, Liz Powell, Dina Pownall-White, Elly Pownall-White, Emily Sanderson, Jennifer Sanderson, Lindy Sinnott, Nathan Tabiner and Trevor Trout.
No children on stage this year but the 8-year-old who sat in front of me on Friday evening added to everyone's enjoyment with his spontaneous laughter throughout the evening, and – at an appropriate moment in Astrid Kemble's Cooking Demonstration sketch – he shouted 'Stop Drinking!' Too late.
Some items had a topical twist. The 'Bats in the Belfry' told of a spread of infection to the children in the Sunday School putting paid to a Christmas nativity while 'Nothing Refreshes' took a pop at advertising slogans.
Other sketches took a fresh look at traditional pantomime stories. Imagine when Snow White meets up with Cinderella only to discover they are both married to Prince Charming. And then, along comes Sleeping Beauty, newly wed to – you guessed it – Prince Charming. Lots of laughs.
The Modern Tale of Red Riding Hood, was indeed a modern take of an old story, with much humour at the nonsense that can be required for political correctness.
And some sketches were old favourites, like 'If I were not upon the stage' in which the careful choreography ensured no one was hurt. Jackie Hodges paid homage to Joyce Grenfell with her 'Nursery School Nativity Play', and Trevor Trout (AKA John Cleese), Peter Bennett (AKA Ronnie Barker) and Dave Lye (AKA Ronnie Corbett) were brilliantly cast for the Class System Sketch – a Frost Report classic.
This production was dedicated to the memory of those Players who died in the past year and, while they couldn't be present, they were certainly in the hearts and minds of those who took to the stage – or worked so hard backstage - for this fun packed performance.
Congratulations to Director Christine Bonner and her Assistant Director Elly Pownall-White. To all the backstage team: Hilary Auty (Vocal Coach/Wardrobe), David Auty (Soundtrack) Gaynor Tabiner (Tap Dance Choreography), Ben Sinnott (Lighting/Sound), Prompt Pauline Savege, Photographer Bobby Dunne, Scenic Artist Douglas Gunn, Pianist Angeline Chesters, Tony Axtell and his team (Stage construction), Mary Kemp and her Team (Front of House) and the Stage Management Team of Pam and Peter Bennett, and Liz Powell, and me, Anne Rainbow. The programme also acknowledged the supporting organisations: Triangle Design & Print for printing tickets, posters and programmes; Salcombe Dairy for kindly donating their delicious ice-creams; Bonningtons, Salcombe TIC and Spar for selling tickets;  Holy Trinity Church for rehearsal facilities; Cliff House Trustees for rehearsal facilities/use of backstage areas; and KATS for loan of costumes. Plus everyone who donated raffles prizes. It's all in such a good cause keeps our Swimming Pool - and our children – afloat.
If you want to join or know more about the Salcombe Players, please contact Christine Bonner on 01548 843243 or by email: [email protected]
Comments
To leave a comment you need to create an account. |
All comments 0