South Hams Council's affordable homes policy 'unworkable'
Friday 26th February 2016 4:40 pm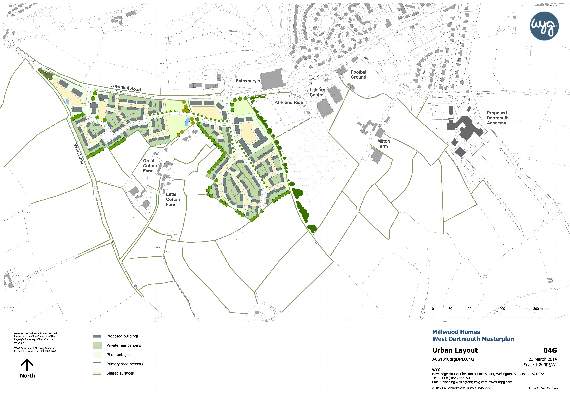 Millwood Homes' masterplan for the West Dart scheme
Subscribe newsletter
Subscribe to our email and get updates right in your inbox.
South Hams Council's affordable housing policy has come under fire as 'unworkable' during an appeal hearing into the future of Dartmouth's multi-million pound West Dart development site.
Millwood Homes said only 11 per cent of the 240 homes proposed for the huge development site on the edge of Townstal should be built as affording housing.
South Hams Council is adamant the developer should be offering to build something between 20 and 30 per cent of the homes as affordable.
But at an appeal hearing this week at Follaton House in Totnes, Millwood's barrister Richard Kimblin said the council's policy was clear that 55 per cent of the homes developers build should be affordable – a figure it has never achieved.
'The reality is that the council does not and has not applied its policy and if the council has an example of a 55 per cent achievement it would have shown it to us,' he said.
Millwood's planning expert Robin Upton said that instead of applying its own policy the council had adopted in 'informal policy' of attempting to negotiate with developers a 30 to 35 per cent affordable housing element of major development projects.
Mr Kimblin claimed that by doing so it was 'acknowledged by the council quite openly that its affordable housing policy does not work'.
But the council's solicitor Thomas Jones said that while council wished to see the planning inspector give 'some weight' to its policy on affordable housing, it was the 'viability assessment' produced to explain the level of proposed affordable housing on the site that was the 'key matter'.
He added: 'We haven't delivered the full level of affordable housing that was the initial objective.'
And he said: 'The informal policy came forward as a means to give guidance to developers that a lower level might be acceptable. It is a key driver of the policy to deliver as much affordable housing as possible.'
The West Dart development started more than two years ago as an £80m project to build 400 new homes alongside employment units and a social 'hub' on the edge of Dart­mouth.
But it was a slimm­ed down scheme that eventually came before council planners last May. At that time, Mill­wood was offering 15 per cent affordable but that was rejected by the district council as too low.
After launching the appeal, Millwood now wants an even lower figure – just 11 per cent.
Around a dozen members of the public turned up to see the two-day appeal opened before planning inspector Stephen Roscoe on Tuesday.
The hearing did not go ahead as a full- blown planning appeal but was run as an 'appeal hearing', to clarify issues raised through the two sides' written statements.
Despite that, Mr Roscoe said members of the public who attended would be able to make statements.
He made it clear that the main issues he would ultimately be looking at were the policy background and the calculations involved in land value, company cash flows and the September 2015 viability assessment produced by Millwood.
County and district councillor Jonathan Hawkins told the hearing the percentage of affordable housing on offer was an insult to Dartmouth.
He said for many years affordable housing had been a priority for South Hams Coun­cil as well as for communities in Dartmouth and Kingswear.
'Affordable housing is essential to the sustainability and survivability of the town,' he said.
'We are at breaking point and need housing for young people to rent and affordable housing to buy so that families live here for 12 months of the year and children go to school here and use facilities such as the library.
'The percentage they are offering is not acceptable.'
Cllr Hawkins said at all the master studies with planning officers it had been made clear to Millwood that affordable housing was a priority and moving the employment land had also been open to negotiation.
He said it was an ideal level development site and if Millwood did not believe it could make it viable then one option would be to come back with a different proposal.
Town councillor and chairman of the Dart­mouth and Kingswear Society Tony Fyson told the inquiry he did not think it would be a good idea to change the use of the designated employment land to housing in order to make up the affordable housing shortfall.
He added afterwards: 'The people of Dart­mouth will find it hard to accept that a measly 11 per cent affordable housing is all that can be achieved.'
He said the council's expert seemed to think that 20 to 30 per cent would be reasonable, though 55 per cent had been the council's original position – now rendered unachiev­able by central government.
Cllr David Gent, chairman of the town council's planning committee, said afterwards: 'The percentage of affordable housing being proposed is way down on what is needed when you consider there are 251 people in dire need on the housing list at present and another 250 within the catchment area needing rehousing but less urgently.'
Comments
To leave a comment you need to create an account. |
All comments 0