Questions have been raised over plans for derelict site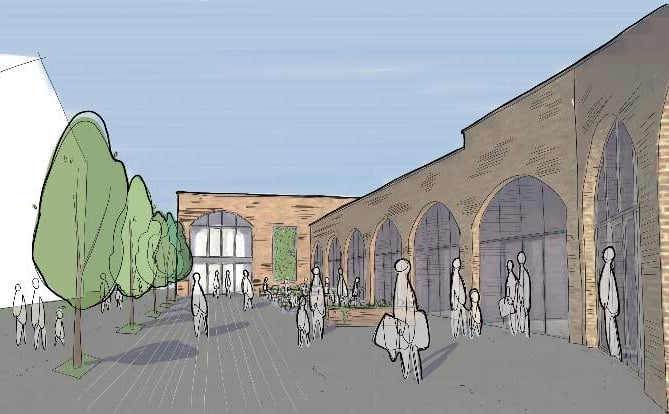 An artist's impression of how the proposed public piazza outside the Brunel Building could look
()
Subscribe newsletter
Subscribe to our email and get updates right in your inbox.
Multi-million pound plans to transform the former Dairy Crest site in Totnes into a multi-mixed development consisting of a creative community hub, housing, a holiday park, shops and business units have been unveiled.
New owners, Fastglobe, are developing proposals to restore the landmark Grade II Listed Brunel Building into a hub for music, art and spaces for local community groups.
But critics champion the original plans for the site, as drawn up by the Atmos project, which was voted for by townsfolk in a historic referendum in November 2016 and subsequently granted a Community Right to Build Order – which has now expired.
The campaign group, Atmos4Totnes, say the new plans mention nothing about affordable housing – a key part of the original scheme.
Totnes Town Council also supports the original scheme, which it hopes to include in the town's neighbourhood plan.
The 'Brunel Park Partnership' has been formed to oversee the plans, led by Totnes land agent Patrick Gillies.
Mr Gillies brokered the sale of the site to Fastglobe, which bought it for £1.35 million from Saputo, whose UK president, Tom Atherton, was Mr Gillie's brother-in-law at the time.
Mr Gillies says there is "huge support" in Totnes to see the site regenerated and the Brunel Building restored.
"Our scheme will see this industrial site finally brought back into use after almost 15 years of standing empty, and Brunel Park will bring about far-reaching benefits for local people by creating new housing, tourism income and jobs, as well as green public space and vital flood prevention work," he said.
"And at the heart of Brunel Park will be a welcoming community hub for local artists, performers and community groups to call their own."
The hub will be operated by a Community Interest Company (CIC) as an independent, not-for-profit community hub, and will be shaped in partnership with the community, but may provide space for creative arts, performances and community groups; a restaurant and bar; recording studio and a youth facility.
Brunel Park will also include housing plus low carbon holiday lodges in a parkland setting, open to the public, with pedestrian links through to the riverside path.
Totnes mayor, Cllr Ben Piper, said the town council's "overriding concern" is to see the provision of jobs and housing within whatever scheme goes forward.
"The agreement under South Hams Council's Joint Local Plan clearly spells this out, and we will seek to see that its provisions are kept in place," he added.
"Obviously, is not down to us how any scheme is delivered, but it is a little bit difficult to see how a private scheme, which is making profit for partners/shareholders can deliver as good value as a community owned scheme, which can reinvest any profit back into the project.
"Also the idea of a chalet park is slightly worrying as the lack of really substantial investment might be seen as potentially land banking, so who would know what might happen in years to come?
"The idea of a CIC to develop the Brunel building is welcome, but it echoes the scheme from Amos which has had lot of public money spent on it already and still has a promise of a very substantial grant attached to it."
Cllr Piper added: "The one thing I do really like though is the idea of keeping the old factory chimney - it's an historic landmark which harks back to an industrial working past in the town, and I know is dear to a lot of local people."
Atmos4Totnes referenced the district's housing crisis and say residents have "every right to be sceptical" about the new plans, which make no mention of affordable housing.
In a statement, the group said: "The community-owned and led plans for Atmos Totnes proposes, and stands ready to deliver, 62 homes for the local rental market and for key workers - that's three times as many homes for affordable rent as has been delivered across the whole of the South Hams over the last three years.
"We also note that the £2.75m funding for the Brunel Building achieved by the Totnes Community Development Society (TCDS) cannot be drawn down by anyone but TCDS.
"The funding, one of the National Lottery Heritage Fund's biggest awards in the South West, remains in place for this iconic building.
"The building is currently in conservation deficit, yet the Brunel Park Partnership have nothing to say about how they will fund its restoration.
"Worryingly, the Brunel Park Partnership show a limited understanding of what a Community Interest Company structure can enable.
"In a CIC structure, profit is capped, but it does not mean CICs are "not for profit" as the partnership states."
Comments
To leave a comment you need to create an account. |
All comments 0