New slipway for Dartmouth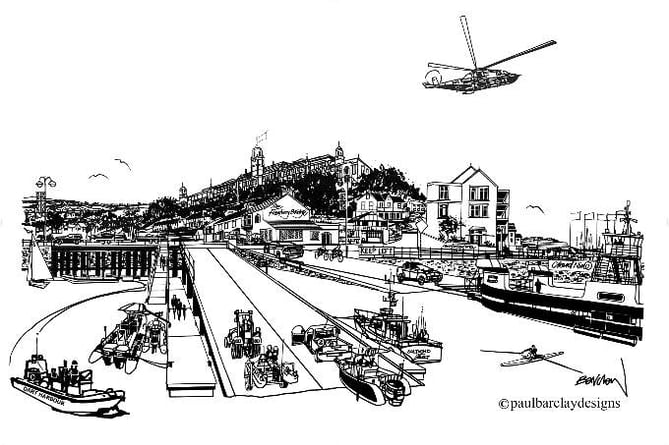 Subscribe newsletter
Subscribe to our email and get updates right in your inbox.
A charitable trust - Dartmouth Public Slipway Trust - has been formed to raise funds to build the slipway on the west side of the River Dart approximately 30 metres south of the existing public slipway on the North Embankment. It'll be 12m wide and 54.5m long, constructed with a suspended concrete deck on tubular steel piles with a maneuvering area at the head of the slipway. A new floating pontoon will be installed along the southern side of the new slipway for temporary mooring of marine craft accessible via a steel walkway.
Sir Geoffrey Newman, chairman of the trust, said: "This is an important project for Dartmouth and the slipway has the full support of South Hams District Council and Dart Harbour Authority."
Sir Geoffrey Newman said the Dartmouth Public Slipway Trust will be applying for a grant from the Marine Management Organisation (MMO) The UK Seafood Fund: Infrastructure Scheme to improve landing conditions for fishermen with vessels up to 10 metres in length. If the bid is successful, the maximum percentage granted will be 75 per cent of the total cost.
He said: "We will need to find 25 per cent of the cost, which is £1.1 million by April 8. To quickly raise this amount the trust is seeking donation pledges. The pledges will only be called in if all the funding for the project is in place. Please help to make this slipway a success for fishermen, commercial users, water sports enthusiasts and for Dartmouth's economy. Pledges can be made with Trustee Ray Bridges using his email: [email protected]
The only public slipway into the River Dart at Dartmouth is a narrow ramp adjacent to the slipway for the Higher Ferry.
Sir Geoffrey said: "It's quite clear locals and visitors attempting to reverse their cars and trailers down this narrow ramp find it very difficult, made even more arduous by the arrival and departure of this ferry, especially on an ebb tide as the ferry cables have sufficient slack to allow the ferry to drift downstream, into the same alignment as the existing public slipway, making launching and recovering of vessels quite dangerous.
"Couple this with emergency call out use by the RNLI, fishermen, rowing clubs, the many canoeists, kayakers and paddleboarders all of whom have to launch and recover their craft from this crowded ramp. It's quite apparent that the existing slipway is now totally inadequate, hazardous and restricts access to the river.
"Access to the estuary will be significantly improved allowing the safe launch and landing of boats at all states of tide away from the Higher Ferry. It will also ease traffic congestion on the main road to Dartmouth caused by vehicles and trailers having to reverse on the wrong side of the road against the traffic flow."