Dartmouth in battle to save community hospital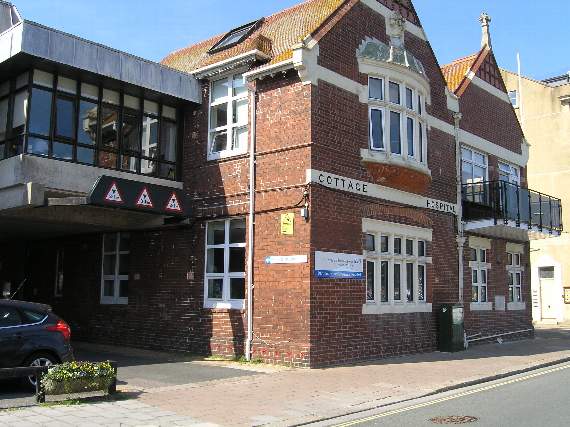 Dartmouth Community Hospital
Subscribe newsletter
Subscribe to our email and get updates right in your inbox.
DARTMOUTH councillors have come out fighting against plans to close the town's community hospital.
Public meetings are being arrang­ed in the town and across the river in Kingswear.
Dartmouth MP Dr Sarah Woll­aston, chairman of the House of Commons Health Select Comm­ittee, said she would be spending a day in the town, meeting with all interested stakeholders and local people to talk about the proposals being considered by health chiefs.
Mayor Rob Lyon said the town would do all it could to save the hospital and clinic.
But it was equally important to make sure that whatever replaced any lost facilities was adequate for the town's needs, he added.
'We have to all stand up and fight as hard as we can and get the best deal possible for Dartmouth.'
Town councillor and chairman of the Townstal community Partner­ship Steve Smith said the town was sending a 'definite and defiant' message to health bosses over any proposals that would reduce health and social care in the town.
And he said many people felt 'hoodwinked and let down' with the ongoing promise that the hospital's minor injuries unit would reopen.
Community hospitals at Dart­mouth, Paignton, Bovey Tracey and Ashburton could all go in a major reshaping of health services across Torbay and south Devon.
The future of the MIU at nearby Brixham Hospital is also in the balance, it has emerged.
The total number of MIUs will be reduced to three, located at Newton Abbot, Totnes and Dawlish.
Many in Dartmouth fear the draft proposals to close the town's hospital and clinic would leave the community particularly badly off because of the town's remote location and high population of elderly residents.
Dartmouth Town Council will be discussing the future of the community hospital at a special meeting in the Guildhall at 7pm on Thursday, April 28, and public meetings are also being planned next month at the Townstal Community Hall and in Kingswear.
MP Dr Sarah Wollaston, who has often spoken out on the importance of community hospitals, has promised to come to hear local views once the exact proposals are known.
She said she shared people's 'grave concerns' on the matter and underlined the importance of delivering good health care in the community.
For some months the South Devon and Torbay Clinical Commissioning Group has been working with Torbay and South Devon NHS Foundation Trust to develop new ways of delivering and meeting increasing demand for services.
If the CCG decides to move ahead with the plans later this month, a full 12-week consultation will begin in May.
A spokesman for the CCG said a new model of care was being developed which would support people closer to or in their own homes.
'The aim is to enable GPs, health and social care teams and voluntary groups to work more closely together to keep people out of hospital by meeting the vast majority of people's health and wellbeing needs within their local communities,' said the spokesman.
'The proposed approach is likely to see increased investment in local community services, fewer hospital beds and a reduced number of minor injuries units which would be open for longer hours, have X-ray facilities and a more comprehensive range of services.'
The spokesman said full details of these proposals would be considered by the CCG's governing body at its meeting on April 28, with papers being published at the end of next week.
The new approach would see a health and wellbeing centre established in Dartmouth, using part of the existing Riverview nursing home where locally based staff would work alongside GP, pharmacists and voluntary sector organisations to provide services and clinics.
County and district councillor Jonathan Hawkins said a meeting would be held at Kingswear village hall during the consultation period, when residents would be able to ask questions and learn more details.
He said at present the proposals on what the service would look like seemed very vague and ill thought out.
'It almost seems a foregone conclusion that the hospital and clinic will close and because of the remoteness of Dartmouth and for elderly residents this is very concerning,' he said. 'We hope they will review and reconsider.'
Cllr Hawkins said an alternative to using part of the existing Riverview nursing home as a future health centre would be to build a new hospital as part of the agreed West Dart development master plan.
Townstal town councillor Steve Smith said the hospital closure must not proceed without provision of moving to another location and any funds from the sale of the town centre clinic and hospital should be ring-fenced for a new build.
And he believed health bosses should have been open, honest and transparent about their intentions from the start.
'The CCG hoodwinked this community in the belief that the MIU would be restored to Dartmouth but were waiting for specialised training to be completed,' he said.
'This was never their intention from the offset,' he claimed.
He said there should be a duty of care to Dartmouth as an isolated community in a remote location wth an ageing population and weak transport links.
He said he feared the consultation was just a 'tick in the box exercise' and it was already a done deal to close Dartmouth hospital on South Embankment.
'It's immoral and measures should be put in place to put duty of care to the community above number crunching,' he said.
Pierre Landell-Mills, chairman of the Dartmouth Patient Participation Group, described the proposals as a 'bombshell for the town'.
'The proposal to establish a new health clinic to accommodate the GP practice and some other clinical services is welcomed, but there remains the need for some beds for patients who cannot go home,' he said.
He said funding for any new clinic was sure to be an issue but the cottage hospital was funded by private subscription in the late 1800s and there would be an 'unholy political row' if these proceeds of sale were to be pocketed by the Treasury or used by the NHS for developments elsewhere, rather than for a new health facility at the top of the town.
'The CCG have put a token value on these sites of £1.5m, but we are convinced that this is a substantial underestimate – £3m seems a more likely figure, almost enough for the new facility.
'A proper professional valuation should be obtained as soon as possible to clarify this issue and then we need cast-iron promise from the Government that these funds will be earmarked for Dartmouth.'
Dr Wollaston said she was planning to spend a day in Dartmouth, once the consultation had opened, talking to interested stakeholders and residents and to discuss a way forward, as going through the proper consultation channels would be of upmost importance.
'Our community hospitals are immensely valued and so any changes, especially those that could lead to bed closures, are a serious concern,' she said.
'But community hospitals are about far more than bricks and mortar, they are at the heart of delivering a service to local communities that allows people to be cared for closer to home.
'It is also important to make sure we look at the evidence for how we can care for as many people as possible close to home within the resources available. That means looking at the whole system of general practice, community nursing, social care and voluntary services alongside community hospitals. We cannot look at them in isolation.
'If the plans just involve cuts to services and beds, I will not support them. If a strong case can be presented for how money would be invested in genuinely improving services for patients, then I think there must be a clear promise about how that will be guaranteed and what it will look like.
'Our community hospitals were gifted to local communities and supported over many years by generous donations and bequests.
'If any are sold, and it remains a big if, that resource must stay for the benefit of the local communities to which they were gifted and be used to build primary and community care facilities that are fit for the needs of today's patients.
'These changes must have the support of communities and that will only come if the case can be clearly made for why the service could be better if provided in a different way.'
Comments
To leave a comment you need to create an account. |
All comments 0