Green light for 120 new homes in Dartington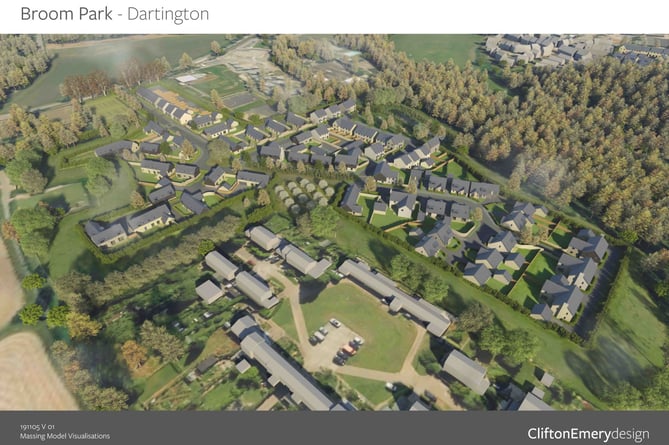 Aerial 3d visualisation of the Broom Park development
(contributed )
Subscribe newsletter
Subscribe to our email and get updates right in your inbox.
Concerns about flooding, loss of wildlife habitat, the climate emergency and creeping urbanisation of a rural village were ruled out by South Hams councillors, who gave the go-ahead for 120 new homes to be built in Dartington.
Members of the development management committee approved Baker Estate's detailed plans to build 80 homes at Broom Park and 40 homes at Sawmills – both of which received outline planning consent in April 2020.
The controversial developments received some 400 objections when they were first mooted, said Dartington Parish Council chairwoman Cllr Trudy Turrell.
Speaking at the district council's recent planning meeting Cllr Turrell said: "Yet what we see at the detailed stage is a largely unchanged design and layout from the outline.
"It's a suburban roll-out that disrespects adjacent landscape and listed historic buildings, and the style could be anywhere in Britain.
"In the last decade, Dartington has been deluged in mediocre developments; we have had Meadowside, Origins, Yarner Mill, Beacon Park and Brimhay.
"Together they've increase traffic and speeding on our back lanes, caused our air to fall well below World Health Organisation limits daily, and depleted our habitats, damaged our rural character and heritage and increased flood risk.
"Planners and councillors need to consider the cumulative effects of this development, not as an island."
Cllr Turrell called for a "catchment flood modelling" to assess the effects of "increasing" rainfall at the Bidwell Brook and the Dart.
"The assessment of this site only allows for one in a hundred year storms based on 2013 data. The sad reality is that these figures are well out of date.
"If we look at Met Office climate models, applied to the findings of the 2022 IPCC [Intergovernmental Panel on Climate Change] report, the 20,000 metres of impermeable surfaces that Broom Park offers will take one hour of 20mm rainfall to fill that overflow 600,000 litre attenuation basin.
"We all know how long rain can last in Devon, very seldom does it stop after an hour.
"And those 30mm events are doubling by 2030 – seven years time.
"We all need you to step up. You have acknowledged a climate and ecological emergency in 2019; you have signed up to that, you declared it – we hope you believe it.
"More time and thought is needed before this scheme can do that. Please don't short-change us."
Dartington ward councillor, Jacqi Hodgson urged councillors to reject the plans, insisting the developments would change the nature of the parish.
She said: "I support the many residents in this area and further afield that are bewildered by the excessive and urban development being dumped in Dartington.
"This is not following any realistic, sustainable development policy, nor is it providing the housing we actually need to meet the housing crisis we know exists.
"It's simply another 120 mostly unaffordable houses, many of which are likely to become second homes and holiday lets, and threaten the area with flooding and loss of wildlife.
"We can do better than this."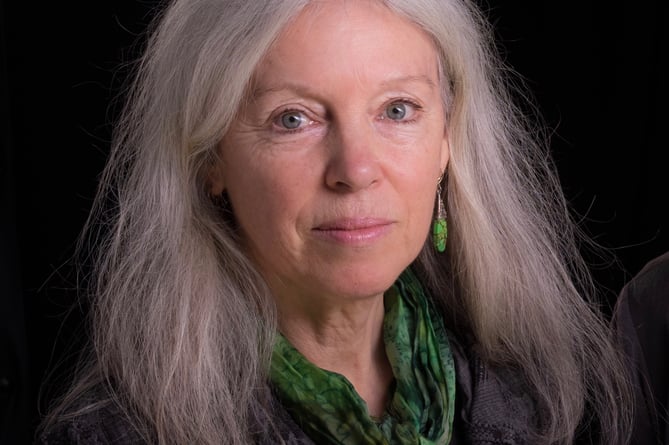 Cllr Jacqi Hodgson
(Nigel Cheffers-Heard )
Cllr Daniel Brown hailed the plans "relatively sympathetic" in design and landscape and "welcomed" Baker's "efforts on biodiversity net gain" and "climate change commitments".
Referring to flood concerns, he said: "The experts on the drainage matter has said there is no problem with it, in their view."
Cllr Rosemary Rowe also approved the plans saying the affordable aspect would give people the chance to get on the housing ladder.
"I sympathise with Cllr Hodgson and people in Dartington, but Dartington is a good place to buy a house to live because you can get to Plymouth and Exeter quite easily, a lot quicker than if you live over in the far east of the district.
"We have all had loads of new houses imposed on us but that's life, that's the way it goes."
The applications were approved by eight votes to one, subject to conditions.
Comments
To leave a comment you need to create an account. |
All comments 0