Duo row into the record books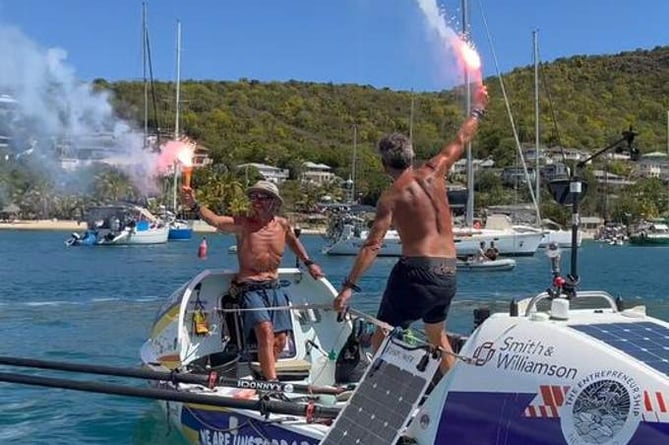 Photograph from Entrepreneur Ship
Subscribe newsletter
Subscribe to our email and get updates right in your inbox.
The rowing duo with strong South Hams connections have crossed the finishing line in Antigua completing the three thousand mile Talisker Whisky Atlantic Challenge and making it into the record books as the oldest pair to row across any ocean.
Guy has a home in Salcombe while David lives in Kingsbridge.
68-year old Guy Rigby and 56-year old David Murray set off from La Gomera in the Canary Islands on Sunday December 12.
The duo crossed the finishing line in Antigua on Thursday February 3 after a feat lasting 53 days 3 hours and 42 minutes to the sound of air horns, whistles and cheering from loved ones and well wishers around English Harbour. There then followed a round of media interviews and greeting the crowd.
David said: "Everything has been amazing and I have really embraced the solitude and the night skies, being able to get away from everyday life and really reset. I have learned a lot about myself. When you are tired mentally and physically you go to some extraordinary places."
He added that he's pleased "the funds we have raised (are) being used to help social entrepreneurs who typically find int difficult to fund their enterprises."
They have been raising money for UnLtd which supports social entrepreneurs and as of February 7 their Crowdfunder total stood at almost £347,703.
Despite consuming 6000kcal per day they lost a considerable amoutnt of weight. David lost 8kg which is 10 per cent of his body weight and Guy lost 10kg which is 13 per cent of his body weight.
Their boat was the 24-footer The Entrepreneur Ship. It's a Rannoch 25 built in 2019 and christened as Lily. She is a 24-foot ocean rowing boat with a beam of 5'7".
Shortly after arriving they headed to a restaurant where they sat on cusioned chairs (for obvious reasons) that didn't move around and tucked into a burger and chips with fresh salad and a cold beer.
Arrival in Antigua wasn't the end of the story, the following day came the boat clean up and post-race inspection.
The checks include many things to make sure no unfair advantage was gained and also that no rubbish was dumped at sea. Empty food packes were checked to make sure they correspond to the amount of full ones taken on the boat at the start. The team passed the inspections.
Then the boat clean up, a smelly but necessary job before it is shipped back to the UK.
Then time for a few days decompression in the beautiful Carribean surroundings before heading for home.
Comments
To leave a comment you need to create an account. |
All comments 0