Customers in tears as bookshop closes
Thursday 29th September 2011 10:00 pm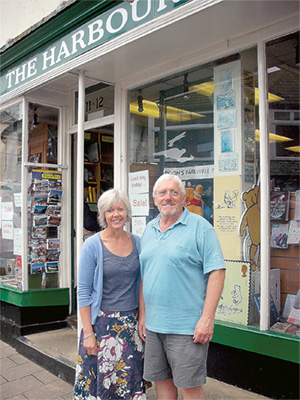 Caroline and Rowland Abram manage a smile which hides their sadness as they close the Harbour Bookshop for the final time
Subscribe newsletter
Subscribe to our email and get updates right in your inbox.
'Winnie-the-Pooh's bookshop finally closed this week amid tears and a last-minute wave of book buying.
The Harbour Bookshop in Dartmouth, once owned by Christopher Robin, son of Winnie-the-Pooh author AA Milne, was packed with customers in the run up to the controversial closure as they flooded in to take advantage of the sale prices with up to 50 per cent off.
Regular customers – both visitors and townspeople – expressed their sadness at the closure as owners Rowland and Caroline Abram prepared to shut up shop for the last time.
Wendy Holden from Dartmouth, who had just made her last purchase at the shop, said: 'It really is very sad. It's absolutely terrible. We need a bookshop.'
Marion Mearing, from Dorset, who had also been in the shop to buy, added: 'We come to Dartmouth every year and every year we come to the shop. It's a very beautiful shop and the fact that it is closing is very sad. It's the kind of place that adds character to Dartmouth. There are a lot of people who are going to be disappointed at its closure.'
Mr and Mrs Abram have run the shop with its connections to AA Milne and his Winnie-the-Pooh stories, for the last 16 years.
It was started in 1951 by AA Milne's son Christopher Robin who the author modelled his story character on.
Mr and Mrs Abram have blamed the high cost of rent and rates along with increase competition from on-line books and supermarkets for the closure. On the bookshop's last day Mr Abram said: 'I can hardly keep back the tears.
'So many people have come in saying they are sorry to see us go. It has been quite staggering.
'So many people have come in, it's has been like Christmas-time.
'One woman I served went out in tears – really crying.'
He said it was planned to finally shut the shop up quietly before he and Caroline took the staff out for a meal at the Royal Seven Stars.
He said: 'They fully deserve it. It has been really busy.'
Meanwhile, campaigners out to launch a community bookshop to replace the Harbour Bookshop have been putting their money where their mouth is.
A number of anonymous supporters have loaned the newly formed Dartmouth Community Bookshop group the cash needed to buy the closed bookshop's shelving, ready for any new operation they can get under way.
Group chairman Anthony Fyson said: 'A number of individuals have agreed to donate the necessary sum between them.'
He said he could not say how much they had contributed but said it was in the shape of loans which the donors were prepared to risk.
'It's community spirit at work,' he added.
The campaign group has just signed a lease to take on the Dartmouth Trust-owned shop in Higher Street for the next six months, which will be used to store the shelving. Now the group is hoping to put out a prospectus covering the community project to help raise funds as well as become legally constituted to help access grants and other sources of money.
Comments
To leave a comment you need to create an account. |
All comments 0