Councillors have expressed concern about a group distributing extremist newspapers from the Shady Garden in the centre of Totnes.
The group gives out copies of The Light, a free, far-right and anti-semitic newspaper which features conspiracy theories. It claimed Covid was a hoax and supports other extremist themes.
They set up a marquee in the garden every Saturday which also features a giant banner for UK Column, a website featuring conspiracy theories and antisemitism.
South Hams District Councillor John Burch asked for the support of the Town Council saying: ''I don't think that we (SHDC) should just stand by, do nothing and allow people of such views to peddle their message every Saturday.''
Speaking at the Totnes Town Council meeting, Councillor Georgina Allen said: ''I have received 14 or 15 letters from people who are very concerned about the stall.
''Most of them are from people who live in the area but some are from people who just like to use the garden.''
She continued: ''UK Column, a national organisation partly based in Plymouth, have included on their website items claiming Jews eat babies, and Biblical references stating they are the ancient enemy and discussion on the (antisemitic) Protocol of the Elders of Zion. It crosses the line.''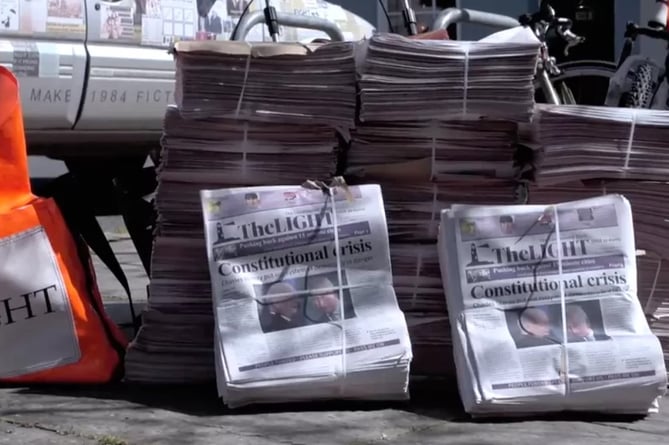 The Light newspapers in Totnes
(BBC)
The Light, edited by Darren Nesbit, prints at least 100,00 copies a month and has a Telegram channel with at least 18,000 followers.
Cllr Burch continued: ''A few weeks ago The Totnes Gardens Group set up a plant stall in the garden, having been granted permission from South Hams District Council.
''The members were harassed presumably because the group thought they were invading their patch.
''The following Saturday around 40 or 50 supporters of The New World Alliance stall turned up.
Cllr Burch went on to explain that SHDC won't grant permission for political organisations to operate on their land and that an officer from SHDC had spoken to a representative of the group who didn't consider that they had done anything wrong.
Totnes town councillors agreed to write a letter of support for the group to be removed from Shady Garden.
The Light has featured an article from a blogger called Lasha Darkmoon advocating that people should be able to question the Holocaust and another by white supremacist Eustace Mullins who wrote 'The Biological Jew and Adolf Hitler: An Appreciation.'
Cllr Burch said that South Hams District Council had confirmed that no permission had been given to New World Alliance to operate from there and that SHDC wouldn't give permission for any political group to operate from there.
South Hams Newspapers checked the Shady Garden last Saturday (November 11) and can confirm that copies of The Light were still being given out to passersby.
CORRECTION: Versions of this article which appeared in the Totnes Times, Dartmouth Chronicle, Kingsbridge Gazette and Ivybridge Gazette newspapers, published on November 16 2023, wrongly attributed the comments made by Councillor Georgina Allen to Totnes Deputy Mayor, Councillor Sarah Collinson. In fact Ms Collinson did not attend the meeting. We sincerely regret the error.